Lunchtime Well-Being for Adults
Do you need psychological and counselling services, but you don't have time or do not feel comfortable coming to our centre?
Don't worry! We will serve you at your office during your lunch break with our professional psychologist at Dynamics Psychological Practice.
Our Lunchtime Well-being Program is a confidential service that aims to provide you with emotional support and practical techniques on personal, family and/or work-related concerns that might be impacting your psychological well-being. These services can be offered face-to-face at your office at your prefered time during your break at work. You can be assured that the information shared in the sessions is kept confidential and private.
In the Lunchtime Well-being Program, we provide professional services for a range of psychological problems from minor life issues to severe mental disorders. Our therapists plan the most effective therapeutic interventions for your issues after conducting the initial clinical interview.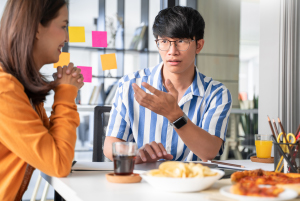 We provide different psychological services such as diagnosis, assessment, therapy, and psychoeducation for a wide range of psychological problems including:
Depression
Anxiety
Social Anxiety (Social Phobia)
Work-place conflicts
Panic Disorder
Obsessive-Compulsive and Related Disorders (OCD)
Trauma- and Stressor-Related Disorders
Attention-Deficit/ Hyperactivity Disorder (ADHD)
Memory decline prevention
Interpersonal conflicts
Relationship issues
Stress
Life satisfaction concerns
Decision making
Parent-child conflicts
Self-esteem and self-confidence issues
Life skills deficits
Social skills issues
Communication problems
Anger
Time management difficulties
Work-life integration issues
Grief and sadness
Adjustment difficulties
Cultural adjustment issues
Loneliness concerns
The following is a promotion and not the regular price
50 - mins
Counselling Session
(Initial Consult)
normal price $220
current promotion
$50
/ session*
50 - mins
Counselling Session
(Subsequent)
normal price $220
current promotion
/ session*
50 - mins
10 Counselling Sessions
(Package)

normal price $180
current promotion
/ session*
*Disclaimer - Transportation charges will be added for the session depending on distance.
Promotion valid till 31st May, 2022.
---
---