Counselling and psychotherapy can assist your child in case of behavioral problems or to cope with difficult circumstances.
Our in-house psychologist is very experienced and can recommend the best intervention approach suitable for each individual child. The duration of counselling varies depending on the severity of the difficulties faced.
Our centre offers a fun and joyful environment, and is very child friendly.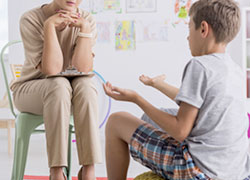 Support is available to young people and parents, with the focus on enabling families to cope with difficult circumstances and provide techniques and strategies to help manage these difficulties. Cognitive Behaviour Therapy (CBT) focuses on the here and now, looking at individuals' thoughts, feelings and actions as a means of understanding behaviour. By becoming aware of these elements and the impact they have on our daily lives, changes can be made.