Boost your Wellbeing during the Pandemic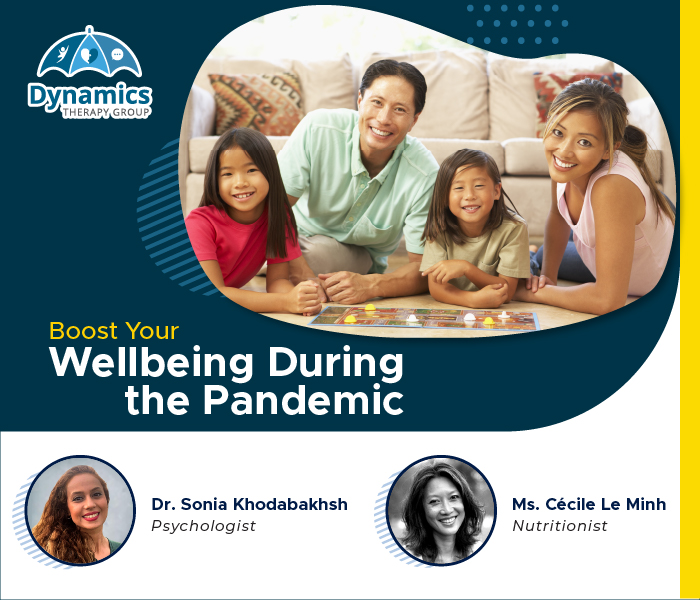 Join our FREE webinar and receive a $100 voucher* for Nutritional Therapy or Psychological Counselling.
Learn wellness and nutrition strategies for a healthier body and mind.
21 September 2021, Tuesday | 6:00pm - 7:00pm
REGISTER NOW!
Call 6100 9235 or WhatsApp 9380 6207 to find out more!
You can also email us at inquiry@dynamics.com.sg or visit www.dynamics.com.sg for more information.
Dr. Sonia Khodabakhsh
Psychologist
Dr. Sonia has over 10 years of experience in different settings, such as private practice and community mental health centres, offering a full range of psychological interventions for individuals, couples and families.
Ms. Cécile Le Minh
Nutritionist
Cécile is dedicated to helping adults and children enrich their quality of life and optimise their health through nutrition and healthy eating habits.
* Terms and Conditions Apply:
To be eligible, participant must be one of the first 20 registrants and must attend the entire webinar.
Voucher is valid till 30 September 2021.
For Nutritional Therapy, the voucher is valid for 2 sessions (1 hour per session).
Dynamics Therapy Group Pte Ltd reserves the right to change the terms & conditions at any time without prior notice.
---