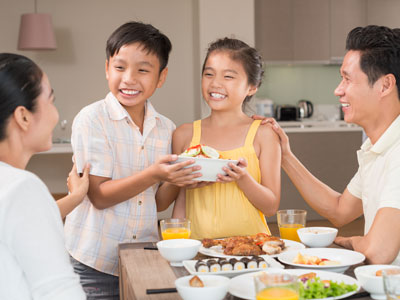 Nutrition for Life. Better eating for life; for now, and future generations.
Eating good food, especially with family and friends, is one of the greatest pleasures in life. A healthy and wholesome diet throughout one's life is extremely important as it promotes a healthy life. A healthy diet has a direct impact on various stages of our life - from nourishing your baby while you are pregnant, supporting his/her normal growth, development of your child as well as our personal ageing. Additionally, it helps to maintain a healthy body weight, and reduces the risk of chronic disease leading to overall health and well-being.
Women
Food can improve the chance of fertility during preconception. Well-nourished mothers are likely to have healthy babies. During pregnancy, quality and quantity of diet is essential for optimal foetal growth and can influence pregnancy outcomes.
Additionally, discomfort, and symptoms of menopause can be greatly reduced by a healthy diet for older women.
Family
We all enjoy our meals if they are tasty and we eat them in a comfortable happy environment. Mealtime can be a time when families talk and bond together, and teach children good habits and customs. Therefore food can positively affect their health and well-being. Healthy meals have a direct impact on the family's immunity, strength and growth.
Many families who might have moved to Singapore as an expat have an additional challenge of adapting to a new environment and keeping one's own culinary heritage – thereby prompting one's family to adjust and alter their eating habits. These dietary changes should be looked into to ensure one's family's nutrient intake is healthy and varied.
Chronic problems
Stress: understanding the link between stress and our eating habits is essential. Certain food and behaviour can increase stress, whilst others give one relief. Everyone is different.
In the same way, our eating habits can influence our quality and quantity of sleep too.
Healthy eating and healthy living help to prevent or keep under control some chronic conditions, like digestive disorders, cancers, cardiovascular diseases, weight problems.
Eating food is related to our global health: physically, mentally, emotionally.
Our holistic approach should not only be about what we eat, but also how, when, where and why we eat. There is no ideal diet, all advice should be tailored to meet the patient's needs and preferences. It is interesting to note that even small changes in diet and lifestyle can have the greatest effect on one's health and well-being. Choose the food that is good for you body, mind and emotions.
At Dynamics our approach of food is holistic: it is not only about what we eat, but also how, when, where and why we eat. We help parents and children lead a healthier lifestyle through nutrition. If you're trying to manage your weight, eliminate digestive issues or form healthier eating habits for the whole family, our mission is to help you reach your health goals, and in turn, improve your quality of life, for now and the future!