Adult Physiotherapy Singapore
Physiotherapy at our centre aims to improve well being, restore function and aid in recovery from a range of musculoskeletal, sports, orthopaedic and neurological conditions.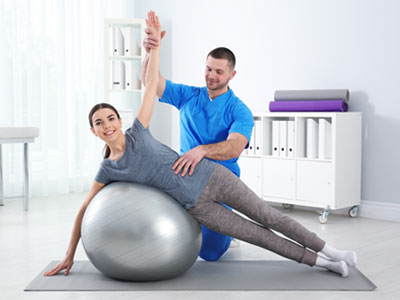 These may include:
Neck/cervical pain, Low back pain/lumbago, frozen shoulders, knee arthritis, carpel tunnel syndrome, sacroiliac joint pain among other musculoskeletal conditions.
Sports Injuries like rotator cuff injury, tennis elbow, golfer's elbow, tendinitis, ankle sprains, knee injuries and injuries resulting from accidents or falls or while playing sports causing acute soft tissue injuries.
Orthopaedic conditions like fractures, osteoporosis and other bone conditions.
Neurological conditions including stroke, Parkinson's disease, traumatic brain injury, peripheral nerve injury, spinal cord injury and other neurological conditions causing movement dysfunction and affecting activities of daily living.
We work with our clients in a holistic way to help them reach their full potential. A combination of treatment techniques and physical modalities are used to manage pain, improve joint movement and restore functional ability of our clients, including:
Manual Therapy
Exercise Therapy
Electrotherapy
Thermotherapy and Cryotherapy
Kinesiology Taping and Strapping
Core Stability Training
---
---