Child Physiotherapy Singapore
Paediatric Physiotherapy at Dynamics provides treatment to children from birth to 18 years.
Some of the physical disabilities that are treated: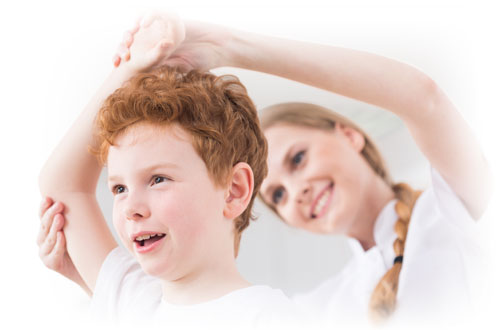 Cerebral Palsy
Brain Injuries
Autism Spectrum Disorders
Developmental Delays
Developmental disorders including Ataxia and Dyspraxia
Muscular Dystrophy
Brachial Plexus Injury
Disease of the Spinal Cord
Torticollis
Plagiocephaly and Brachycephaly
Hypotonia and Hypertonia
Gait related issues including Toe Walking and Pigeon Toe Walking
Bow Knees and Knock Knees
Post op orthopedic surgery
Post Botox and Serial Casting
Athletic Injuries including Osgood Schlatter Disease and Sever's Disease
Ankle Sprain
Fractures
Pre-habilitation
Physiotherapy at Dynamics targets infants, toddlers, children and adolescents with a variety of congenital, developmental, neuromuscular, orthopedic, and acquired disorders. Treatment is aimed at improving independent mobility, flexibility, strength, balance, coordination, endurance, gross and fine motor skills, cognition and motor planning.
Physiotherapy Assessment Fees
60 - mins
Assessment Session
*Disclaimer - Our charges do not include travel costs associated for our therapist to come to your home. Depending on the distance travelled, we additionally calculate the Travel fees, which will be communicated and agreed to by both parties. Pricing may change depending on the seniority of the therapist.
---
---