Social Skills Group Singapore
Do you have a child who learns in different way? Your family and friends find it's hard to understand your child? We are here for you to listen and support.
Eye Contact
Joint Attention and Listening Skills
Turn - taking Skills and Awareness of Body Language
Functional Language Skills
Requirements
Your child needs to be between the ages of 4 to 7 years ideally. We also have a group class for 8 to 10 year olds. Before being accepted into a group, your child needs to be screened by one of our therapist.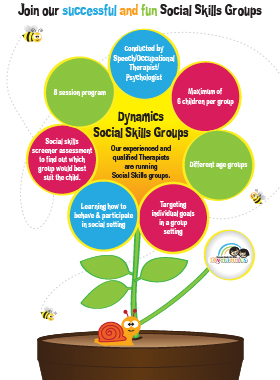 Group Structure
Group sizes vary between 4 - 8 children.
Groups are usually conducted by Speech/Occupational Therapist/Psychologist and run for 8 consecutive weeks.
Each session will run for 50 minutes, with a 10 minute group feedback session at the end of the 50 minutes.
Homework will be given at the end of each session. Please carry out the homework consistently to ensure reinforcement of skills.
It is of utmost importance that your child attends all eight sessions so that he/she has an opportunity to acquire new skills which complement each other, and which are crucial for the general development of social communication skills.
---
Group Schedule
Please call
6100 9235
for more information on our Group Dates.
---
Social Skills Behaviour Therapy Fees (Children)
45 - mins
Screener Assessment Session
60 - mins
Therapy Session (A-La-Cart)
60 - mins
8 Therapy Sessions (Package)
*Disclaimer - Our charges do not include travel costs associated for our therapist to come to your home. Depending on the distance travelled, we additionally calculate the Travel fees, which will be communicated and agreed to by both parties. Pricing may change depending on the seniority of the therapist.
---
---