Applied Behavioural Analysis (ABA), an evidence-based programme for intensive therapy, was started by Ole Ivar Lovaas, a Norwegian-American clinical psychologist and professor. His first research study on ABA was published in 1968. ABA has since evolved, with improved techniques and enhanced effectiveness in helping individuals learn critical functional and independent living skills.
ABA refers to a collection of procedures and strategies, designed to increase positive behaviours, teach new skills and maintain existing ones, adapt behaviours to new environments or situations, reduce behaviours that are detrimental or hinder learning and teach replacement behaviours.
ABA benefits people of all ages. For children, we recommend that they start on the programme as early as possible—the sooner they receive intervention, the better their progress and developmental outcomes.
The therapy uses the principles of learning and motivation, derived from behavioural research, to enhance socially important behaviours and quality of life for the child and parents/caregivers.
ABA at Dynamics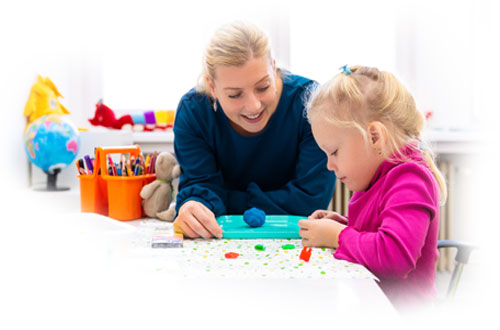 Here at Dynamics ABA, our highly trained and competent ABA professionals are dedicated to:
Intervention: We understand that every child is different. Our therapists take the time to assess the child's current skill level and requirements, and customise a programme that meets unique needs and achieve set goals.
We adopt an intensive one-on-one approach (1 therapist : 1 child) to help the child acquire skills quickly and more effectively, which they can then generalise in different settings. Our programme is data-driven, where we monitor the child's progress on an ongoing basis and adjust the goals, as needed.
We provide ABA with a strong emphasis on understanding and building the child's motivation to learn critical skills. It simply means that when a child is motivated, they will be more inclined to learn.
We also understand the importance of the child's family and/or primary caregiver's involvement in the child's intervention programme. We support parents and/or caregivers through training, relevant resources and regular communication.
Independence: We spend time getting to know the child and developing a strong rapport with them to create a positive learning experience. Our main goal is to help each child develop functional skills and foster independence.
Integration: We strongly believe that every child has the ability to reach their highest potential and should be given opportunities to learn and be successfully integrated into their school and community.
Best Practice & Holistic Approach
We adopt the best evidence-based practice. Led by a Board Certified Behaviour Analyst (BCBA), our team collectively has the expertise and extensive experience in running effective ABA programmes, engaging and teaching the children, and empowering parents/caregivers by providing support and guidance as needed.
Our ABA process is as follows:
Meet parents and child for an initial consultation to assess the child's needs and discuss recommendations.
Once enrolled, the child will be further assessed on their needs and skills for 2 to 4 weeks.
We will develop an Individualised Educational Programme (IEP) for the child based on the results of the assessments.
The child will start the therapy sessions. The frequency (number of hours) and intensity (number of days in a week) of sessions will differ for each child, and will be determined when the programme is developed.
The Programme Supervisor will conduct a periodic review of the child's progress and discuss the review with the parents.
The parents will receive a progress report upon completion of the programme (about 6 months). A meeting will be held with the parents to discuss the progress and goals for the next IEP.
A unique advantage of Dynamics ABA is the hassle-free and seamless collaboration with an in-house multidisciplinary team of Psychologists, Occupational Therapists, Speech Therapists and Educational Therapists. Our ABA programme is outcome-based and is constantly reviewed to include all areas of adaptive living skills.
We provide one-on-one therapy sessions that can be conducted at the centre or at home to cater to the child's needs and parents' preferences. An option to combine centre and home-based sessions (hybrid) is also available.
Dynamics' ABA programme costs* from:
From $144 for a 2-hour session (20 hours package)
From $192 for a 3-hour session (30 hours package)
We also provide a 1-year Registration Package from S$300, which includes the programme curriculum (web-based), Individualised Education Plan (IEP) and progress report (up to 2).
*Our charges do not include the therapist's travel expenses for home visits, which will be billed separately. The travel expenses, determined by the distance travelled and the therapist's seniority level, will be communicated to the client and agreed by both parties.
Speak to our ABA Specialist to find out how we can help your child blossom and thrive.
Book an Appointment