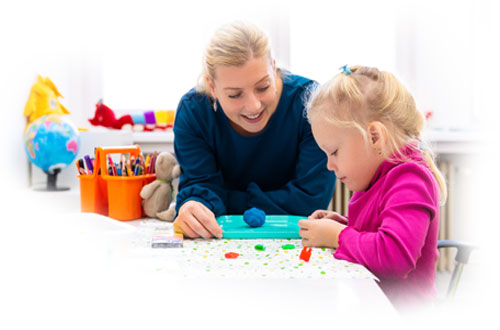 ABA (Applied Behavioural Analysis) is an evidence based behavioral program for intensive therapy, that was started by Ole Ivar Løvaas, and his first research study was published in 1968. Since then, therapists have had fifty years of rigorous research to prove its effectiveness in treating Autism.
ABA uses the application of the principles of learning, derived from psychological research, to help improve socially appropriate behaviours. It is hence an umbrella term for a collection of procedures and interventions designed to increase positive behaviours, teach new skills, adapt behaviours to new environments or situations, and reduce behaviours that are detrimental or hinder learning.
Applied Behavior Analysis can help people with Autism of all ages. Nonetheless, ABA treatment for children can be started as early as possible. -the sooner you begin the intervention the better. It is hence usually recommended to start before the age of 3.
A unique advantage of Dynamics' ABA curriculum is our multidisciplinary team with Psychologists, Occupational Therapists, Speech Therapists and Educational Therapists. Our program is outcome based and constantly reviewed to include all areas of adaptive living skills.
Intervention: At Dynamics, we understand that each person and family that we meet is different. Our therapists take the time to evaluate the current skill level of each child and create a treatment plan centered on ABA.We try our best to get to know every family and determine how we can put our knowledge to work for them.
Independence: We endeavor to provide the best experience for your children, building quality relationships that prove our commitment to each individual. Our entire team works together to simplify and enhance personal growth and development in the families we serve. Our main goal is to improve your children's independence, helping them develop functional skills that let them live their best life.
Integration: We believe that every child who comes to us deserves to be prepared and participate in the community—from school, home, to leisure activities and work.
Inclusion: Is our philosophy, and our way of life.
Why Dynamics and what sets us apart from others?
We provide ABA with a strong emphasis on relationships and ensuring your child has a positive experience. This can help him/her grow their communication and social skills while building positive behavior patterns quickly. Our staff also understands how important it is to bring the family to be part of their child's intervention. We listen carefully to and work collaboratively with all families, offering training, resources, and sometimes-just support and understanding during a difficult moment.
Best Practice Approach
At Dynamics we want to ensure that we follow the evidence based practice. Our head of program is a BCBA certified Masters level professional who has extensive experience in running a program, training therapists, teaching the children and providing parental support. In the team we also have supervisors and behavioral therapists who all together provide the Best Practice in ABA therapy.
Contact Dynamics today to find out how we can help your child blossom and thrive! Reach out at 61009235 to speak to a member of our staff.