Dynamics International School Singapore
Dynamics International School is a unique private school, currently operating four classes between Reception year and Grade 3, for students who require academic support or simply benefit from a different type of instruction. We offer small class sizes and ensure our programs match our students' academic levels. Learning is a positive experience and students achieve significant academic gains and increased self-confidence in our school. Furthermore, our school includes special education and certified teachers who are experienced in working with children, and have at hand, the support of Speech & Language Therapists, Occupational Therapists, Physiotherapist as well as Psychologists with whatever concerns presented by the child.
What makes us unique?
Dynamics International School is intentionally small, allowing for very individualised attention to the unique needs of each student, including social and emotional development. Families who enroll their children with us will be assured that they become capable learners, keeping in mind that their learning journey requires a unique and different approach.
Programme Structure
In order to provide students across Dynamics International School with experiences that are relevant, interesting and challenging, and to identify opportunities for progression, we have adopted a curriculum structure provisioning for: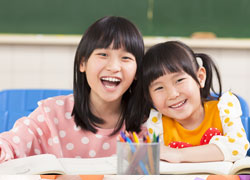 Mainstream Division
Students can access the range of British National Curriculum and International Primary Curriculum (IPC) subjects for their Key Stage, modified in the light of their developmental level and individual educational needs. Specialist areas (the 'additional curriculum') are covered both within National Curriculum subjects (e.g. a student may be withdrawn to work on visual perceptual skills or independent mobility). To avoid making the curriculum too abstract; teachers ensure that learning is linked to practical activities that are consolidated and applied in practical sessions.
Special Needs Division
We provide support for students with special needs, many of whom have no access to the local or international mainstream schooling. Our Special Needs Support is divided into two levels:

School Readiness Program

Semi-formal level designed to prepare students for mainstream schooling
ILP for each child
Influenced by British National Curriculum P Levels
Differentiated work.
Working on curriculum and bridging the gaps of their development in academic skills.
A conducive slow pace environment to help students acquire the necessary skills for the mainstream school.
Our program is designed to target curriculum and individual needs concurrently.
The children will also be involved in play, physical activities in our in-door gym, music and movement and art and craft activities.
On a weekly basis the children will also receive group occupational therapy sessions and group speech therapy sessions to boost their motor and language skills.
If parents are interested in 1-to-1 therapy sessions during the school hours that can be arranged for an additional discounted fee.

Special Support Program

Pre-Formal level designed for students with developmental delays
Influenced by British National Curriculum P Levels
Working on ILP (Individual Learning Plan)
Social skills
Creative Skills
Computer Skills
Academic skills such as numbers, speech and language, cognition, etc
Fine and gross motor skills through music, game and play
Teacher to child ratio of 1:4 0r 1:1 depending on child's ability
Weekly Speech Therapy
Weekly Occupational Therapy
Adaptive Daily Living Skills such as toileting, snack preparation
Snack and feeding habits incorporated in the program (snacks to be provided by parents)
---
---