Employee Assistance Program (EAP)
Our Employee Assistance Program (EAP) is a confidential service that aims to provide your team with emotional support and practical techniques on personal, family and/or work-related concerns that might be impacting their performance and general psychological well-being. These services can be offered face-to-face and remotely via telephone or video-conferencing sessions.
The COVID-19 pandemic had significant negative implications for the mental health and psychological functioning of individuals. During and after the pandemic, a lot of changes may take place in organisations that may cause stress among employees and this may lead to the generation of interpersonal conflicts that damage the working patterns of individuals. Correspondingly, stressed employees may experience depression, anxiety, and burnout, and become unable to concentrate on their work, thus resulting in decreased performance. Indeed, maintaining satisfactory levels of employee performance is an important area of concern for many organizations, which can be obtained by providing psychological services to their employees to help them adjust to the new changes, increase their resilience, and enhance their well-being.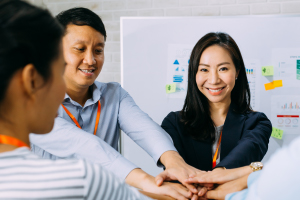 EAP offers considerable benefits to both the employee and the organisation:
How an EAP benefits organisations
Improves engagement and productivity:
When employees are mentally and physically healthy, they have more opportunities to focus on their work. This in turn helps to improve employee engagement and boost productivity.
Reduce presenteeism and absenteeism:
Teams with highly engaged and happy employees also experience fewer sick days and a reduction in presenteeism, as the employee feels well equipped with the tools they need to mitigate their stress and make positive changes.
Greater employee retention:
When organisations provide access to employee assistance, they demonstrate that they care about their employees and prioritise their mental health and wellbeing. This promotes employee loyalty and allows organisations to retain their talents long-term.
How an EAP benefits employees
It is confidential:
You can rest assured that the information shared in the sessions is kept confidential and private. Feel empowered to take control of your mental health and address any concerns you may have with our trained clinicians.
Access to professional support:
Our trained clinicians can help to process your emotional difficulties in a safe non-judgemental setting, gain new perspectives and explore possible solutions and strategies to cope with the issues.
How can EAP help?
Our Employee Assistance Program (EAP) offers both preventative and proactive interventions on a range of topics including:
Stress, anxiety, depression, panic
Managing workplace conflict
Preventing burnout
Workplace bullying and harassment
Achieving work-life balance
Assertiveness at work
Improving communication skills
Motivational interventions
Relationship issues
Self-esteem and confident
Loneliness and isolation
Marital and family issues
Grief and loss
Mental well-being and self-care
We're here to support you and your team. Start making a positive impact on your employees' mental health and wellbeing today!
---
If you would like EAP support for your organisation, please contact us for a quote.
Call
6100 9235
or WhatsApp
9380 6207
to find out more! You can also email us at
inquiry@dynamics.com.sg
and we will get in touch with you soon.
---
---