Centre Based Therapy Singapore
Therapy at our centre is unique as each of our therapist has a dedicated therapy room, we have a lot of resources:
Assessment Tools (for initial assessment, progress re-assessment, ongoing assessment)
Games – our centre has many cabinets full of games for different age groups, different ability levels and to promote different skills starting with baby toys, matching games, puzzles, Executive Functioning games that work on: strategy, planning, problem solving, speed of processing, and working memory. We have games for single player, two players and group players to cater to different needs.
Workbooks and worksheets – at the centre we have cabinets full of resources to work on different skills such as handwriting, language, articulation, academics, emotional regulation etc.
Facilities – we have individual therapy rooms that can provide the privacy, confidentiality and quiet space for optimal therapy sessions. For our Occupational Therapy clients, we have 2 sensory gyms which are stocked and equipped with:

Dynamics Centre Gym

Suspended equipment

Swings (for sitting, standing or lying down)

Platform swing
Flexion swing
Glider swing
Tire swing
Barrel swing

Hammocks

Layered hammock
Single point hanging
Double point suspension hammock

Trapeze
Bungee ropes
Climbing nets
Rope ladders

Other gym equipment

Loft and slides
Trampolines
Therapy balls in different sizes
Peanut balls in different sizes
Scooters
Balance beams
Balance boards
Ball pool
Bean bags

Sensory room
And the list goes on!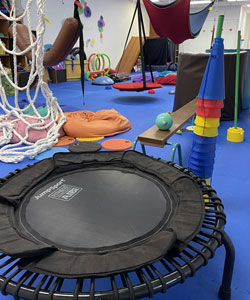 The advantages for centre-based therapy are:
Access to facilities
Access to resources
The client can take part in the planning of certain activities and to choose resources to use in their session
Motivation
If a child needs more than one service, it can be scheduled back to back
Our centre is child, parent and adult friendly and we make sure that the customer experience at our centre is positive and enriching for all our cleints.
---
---