Family Therapy has the goal of helping families to reach higher levels of maturity and self-observation, and to enhance relationships and intimacy, both among family members and outside the family. The success of this goal is predicated on personality (and ego) expansion as the family members individually and collectively are freed from conflicts and restrictions embedded in the early life of the current generation or previous generations of the family.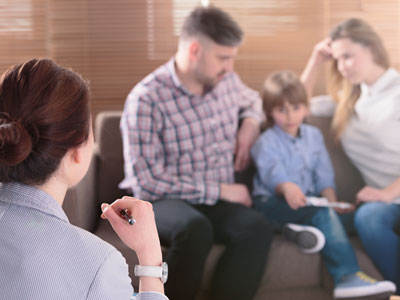 When is Family Therapy needed?
Inheritance Disputes Between Siblings
Interfamilial Disputes Over Wills and Inheritance
Interracial Family Problems
Intolerance/Defensiveness
Jealousy/Insecurity
Life-Threatening/Chronic Illness
Multiple Birth Dilemmas
Physical/Verbal/Psychological Abuse
Religious/Spiritual Conflicts
Reuniting Estranged Family Members
Separation/Divorce
Sexual Orientation Conflicts
Traumatic Life Events
Unwanted/Unplanned Pregnancy
The goals of family therapy are:
Exploring the interactional dynamics of the family and its relationship to psychopathology.
Mobilizing the family's internal strength and functional resources.
Restructuring the maladaptive interactional family styles.
Strengthening the family's problem-solving behaviour.
Family Therapy
The therapist views the family problem from a cognitive behavioural model, and observes problems of interpersonal relationships, mediated by anxiety, faulty beliefs, or lack of self-assertion. These are usually treated individually, but changes in all family members will invariably result if the behaviour of one member is radically altered in a short period of time. The changes in maladaptive anxiety states or cognitions are altered by techniques such as progressive desensitization, covert conditioning, cognitive restructuring, and assertive training.
While the behavioural therapies may be applied to any broadly defined maladaptive overt or covert behaviour that has its origins in environmental contingencies, the following areas are representative of several readily modifiable problems:
Child management problems in which either or both parents are willing to participate in behavioural training programs as co-therapists (for example, temper tantrums, negativism, antisocial behaviour).
Marital difficulties involving the absence or deficit of negotiation skills and inappropriate mutual reinforcement exchanges.
Maladaptive behaviour of one member of the family that results in exclusion of that member or undue stress or breakdown of other family members (as in anorexia, school or other phobic behaviour, asthma, etc.).
Maladaptive behaviours resulting from inappropriate or incorrect attitudes and beliefs that are not a function of an acute psychotic state of any member.
Families in which there are unresolved conflicts, tend to become stereotyped in the repetitive handling of interpersonal transactions, with the result that the family members narrow their observation of each other and focus on the deficits in the family. Therefore, during therapy, as the transactional patterns change, people come to see one another differently, and a more functional self emerges.
A Family therapist encourages the construction of new interpretive frameworks. There is a matching between the belief systems and the transactional patterns of families; therefore, changes in one are reflected as modifications in the other. The therapist provides the family members with a different framework for experiencing themselves and one another. The therapist presents the conflictive and stereotyped reality of the family as a reality that has alternate interpretations. This new reality also has alternate solutions.